Himitsu Ninjatai Yankii (秘密忍者隊ヤンキー, Secret Ninja Team Yankii?) are the Nyankii counterparts from the New York.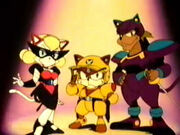 First appearance - 39th episode when Nyankii went to America to meet them. Second (brief) appearance - in the end of 53th episode.
Himitsu Ninjatai Yankii include:
Michael - leader of the team. He is Yattaro's counterpart. He uses Nyan-Nyan Magnum (Revolver) with pinpoint accuracy. Magnum can be used to perfom Kyattsu Ai Shuutingu - Michael's Hissatsu attack. He and Yattaro didn't see eye-to-eye at first but have soon learned to work together to save their comrades.
Madonna - A tall and curvaceous she-cat who uses a whip. She is Pururun's counterpart and is arguably the more attractive one to Yattaro and Sukashii.